2016 - Tommy leaves FuckForForest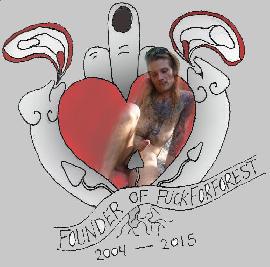 "Why I stopped FFF?

I will try to keep this short, even if I have at least a book to write about the subject, and maybe I will some day (if it was not for that FFF, after doing deep internet research, found out that the "modern" world only had max 2 more years - before total chaos!) So who will read it? For now my life need a time for change and reflection, on my last 11 years with FFF.
I started FFF together with Leona in 2004, which still is my closest friend and love. It was our little love rebellion, against a world we could not connect to. We wished to do something for nature and we wished to explore what we had, our bodies, sexuality and our minds.
Since then, we have come across a lot of friends that joined us with a lot of great support, and also gave us their relationship to love and fears connected to the subject. Leona and me wished to create an erotic expression outside "porn", deeply connected to nature. Our sexuality is, even if you believe it or not, directly connected to our most primal nature in our animal being."
Read Tommys full explanation to way he decided to stop doing FuckForForest.
Do not miss understand Tommy still helps FuckForForest by fucking and making photos from people but no longer want to do any adminastriv stuff. Just donate the material and nothing else.